Soap Dispensing Dish Brush, Kitchen Brush for Pot Pan Sink Cleaning is now available at Amazon.com for just $5.99 (REG $11.99)(As of 30 March 2020, 18:59 PST – Details) with $6.00 (50%)Savings. FREE Shipping. on orders over $25.00 shipped by Amazon. Details & FREE Returns
Here is the Live Product Pricing Snippet to avoid any complication.
Want to have Unlimited FREE Two-Day Shipping and Great deals, Exclusive coupons and special promotions to more than 50% Discount?  Sign Up  here.
Squirts soap with the light push of a button.

Durable nylon bristles.

Scraper on backside of Brush easily removes baked-on food.

Dimension(inches):12 x 1.25 x 3.75.

The Qunlions life Better Guarantee: If you experience an issue with your Qunlions life product, get in touch with us to repair or replace it. We're grateful for the opportunity to learn from your experience, and we'll make it better.
Soap On Demand
Push the non-slip button to release a stream of soap. The silicone valve quickly seals after dispensing to prevent soap from dripping on countertops.
It's Handled
The handle is comfortable and non-slip for fumble-free cleaning and can handle tall glasses, reusable water bottles, stemware and more.
Double Duty Brush Head
Durable nylon bristles won't scratch non-stick cookware and bakeware. The built-in scraper on the back easily removes tough, cooked-on food.
Easy to Refill and Replace
When it's time to replace the brush head, push the tab to eject and slide the new head into place
With the Qunlions life Soap Dispensing Dish Brush, nothing stands between you and that sink full of dishes. Gently push the non-slip button to release the right amount of soap for all kinds of scrubbing; the carefully engineered dispenser valve prevents dish soap waste and dripping when not in use. Durable nylon bristles are safe for non-stick cookware, bakeware, wine glasses – even crystal. Tough job? No sweat. The built-in scraper removes baked-on food with ease. It's easy to refill: just unscrew the cap to add soap, replacing the cap engages the leakproof seal. When it's time for a new brush head, simply push up on the tab to swap it out. Replacement brush, sponge, scrub heads sold separately.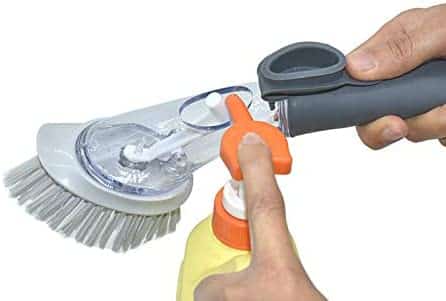 Soap Dispensing Dish Brush, Kitchen Brush for Pot Pan Sink Cleaning $5.99 (REG $11.99)