Purina Beyond Grain Free, Natural, Adult Wet Dog Food is now available at Amazon.com for just $10.92 (REG $25.08)(As of 22 March 2020, 13:23 PST – Details) with $14.16 (56%)Savings. FREE Shipping. on orders over $25.00 shipped by Amazon.
Here is the Live Product Pricing Snippet to avoid any complication.
Want to have Unlimited FREE Two-Day Shipping and Great deals, Exclusive coupons and special promotions to more than 50% Discount?  Sign Up  here.
Color: (2) 6ct Variety Packs – Beef, Chicken, & Fish | Size: 13 oz.
Two (2) Packs Of Six (6) 13 Oz. Cans – Purina Beyond Grain Free Ground Entrees Adult Wet Dog Food Variety Pack.

Packaging May Vary.

Real Beef, Chicken Or Ocean Whitefish Is The #1 Ingredient.

Grain- And Gluten-Free Recipes You Want For Your Dog.

Made Without Corn, Wheat Or Soy.
Purina Beyond Grain Free Dog Food
Go the distance for your dog with a grain-free option that uses natural ingredients, along with added vitamins, minerals and nutrients, to give him the complete and balanced nutrition dogs need. Every recipe is crafted with high-quality ingredients you recognize. We use real meat, poultry or fish as the top ingredient and leave out grains and gluten, including corn, wheat and soy. Your dog gets great tasting ingredients that meet all your criteria, and you get a natural pet food you can trust.
A Grain-Free Option

Offer the nutrition you want for your dog with our gluten-free, grain-free formula. We purposely select each ingredient for a natural dog food, along with essential nutrients, that meets all your criteria.

Recognizable Ingredients

Real meat, poultry or fish is the #1 ingredient in every dry recipe. We can follow each of our ingredients back to our trusted sources, ensuring a traceability that you can trust.

Natural Nutrition with Added Vitamins and Minerals

Your dog doesn't ask for artificial flavors, colors or preservatives, so we don't add any. We also omit corn, wheat, soy and poultry by-product meal, using just the good stuff you and your dog want.

Our Nutritionist's Commitment

Purina Beyond Grain Free recipes are formulated with the right amount of protein, fat, carbohydrates and essential nutrients to help support a long, healthy life for your dog.
Offer your dog a variety of grain-free mealtime options with this Purina Beyond Grain Free Ground Entrees adult wet dog food variety pack. Each recipe in this pack features real beef, chicken or salmon as the #1 ingredient, so you can rest easy knowing he's getting wholesome meals made with high-quality ingredients you know and trust. With real, recognizable ingredients plus essential vitamins and minerals in every serving, this wet dog food gives him the nutrition he deserves in grain- and gluten-free recipes you want for him. Crafted with ingredients that can be traced back to our trusted sources, this premium dog food collection includes three different recipes in every package, making it easy for you to mix things up at mealtime while tending to his nutritional needs. Give your faithful friend a natural meal you can trust with every delicious selection in this Purina Beyond variety pack. Give your canine the deliciousness he deserves to satisfy his cravings with an order of this Purina Beyond variety pack.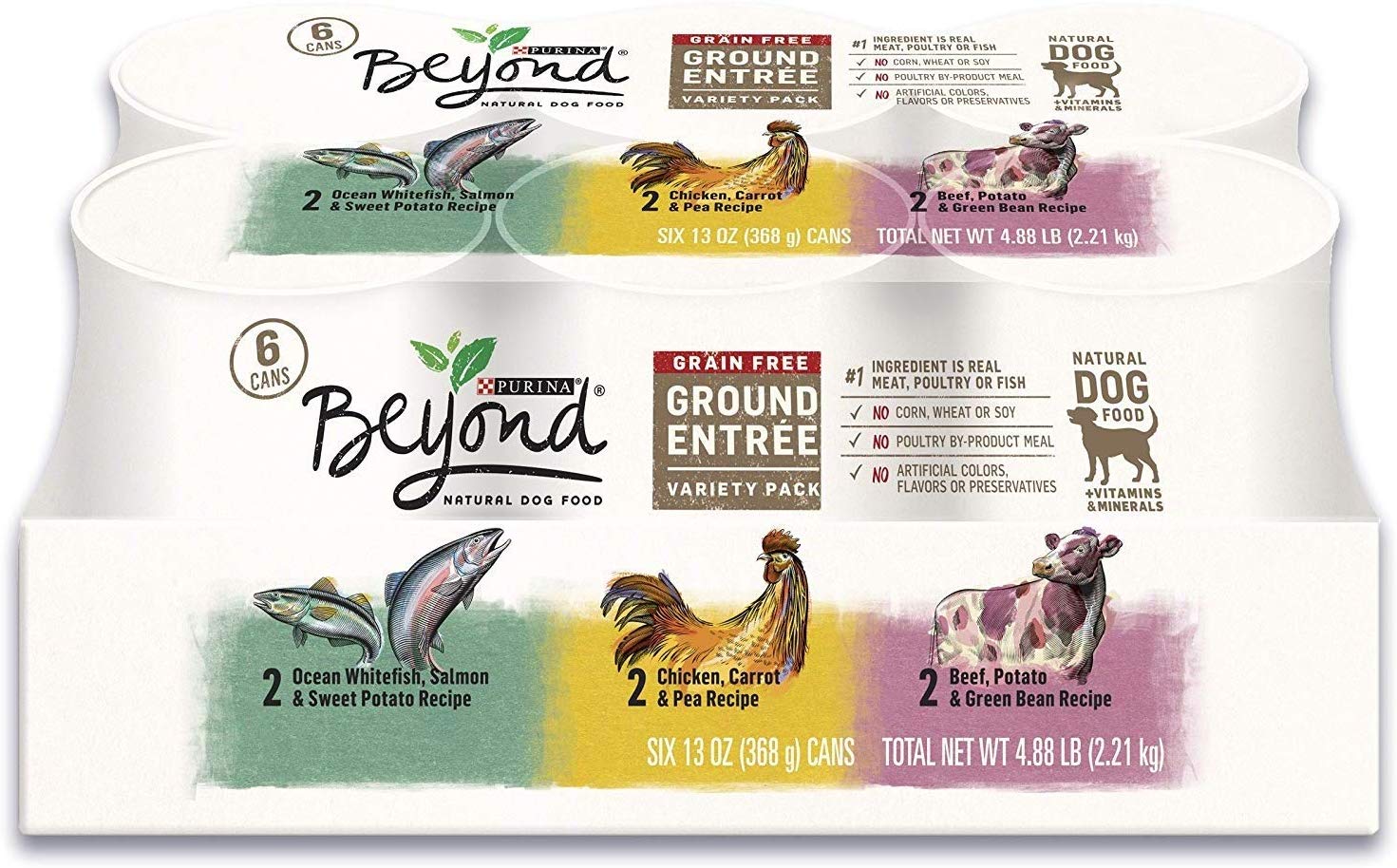 Purina Beyond Grain Free, Natural, Adult Wet Dog Food $10.92 (REG $25.08)