Peppa Pig: Happy Mrs Chicken is now available at Amazon.com for FREE (REG $2.99) (As of 02 May 2020, 13:19 PST – Details) with $2.99 100%(Savings) Available Instantly
Here is the Live Product Pricing Snippet to avoid any complication.
Want to have Unlimited FREE Two-Day Shipping and Great deals, Exclusive coupons and special promotions to more than 50% Discount?  Sign Up  here.
This app needs permission to access:
Open network sockets

Access information about networks
Product description
Peppa and George are playing Happy Mrs. Chicken and they want you to join them! Fans of the TV show will love this app, which encourages pre-schoolers to explore the wonderful world of Peppa through lots of fun filled games, featuring much loved characters, music and sound effects.
FEATURES
5 x fun-filled games featuring Peppa, George and their family and friends:
• See how many eggs you can lay with Happy Mrs Chicken
• Lay a seed trail to guide chicks through the maze
• Help the chickens get back to their chicken coop
• Jump in as many muddy puddles as you can
• Complete fun jigsaws
Plus special Happy Mrs. Chicken content, such as:
• Sticker rewards
SAFE AND AD-FREE
Trusted by millions of families across the globe, Peppa Pig: Happy Mrs Chicken gives parents peace of mind with:
• Age-appropriate content tailored for preschoolers
• A safe and secure environment: NO ads!
PEPPA PIG
Peppa Pig is the globally acclaimed animated TV show adored by pre-schoolers around the world. Peppa is a loveable, but slightly bossy little pig who lives with Mummy Pig, Daddy Pig, and her little brother George. The series has charmed children and their parents with its warmth, humour, familiarity and simplicity as it follows the family going about their everyday lives. Peppa likes playing with her friends, going to school, learning ballet, visiting Granny and Grandpa Pig and looking after George, but most of all she loves jumping in muddy puddles.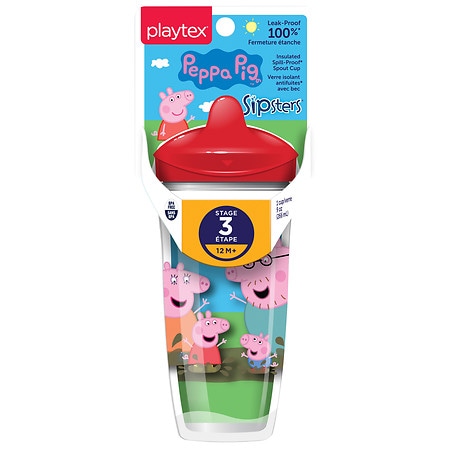 Stage 3 Peppa Pig Spout Cup Stage 3 Peppa Pig Spout Cup
5x7 card on matte photo paper. Print on front only. Feature your own photos and message. Sold in sets of 20, envelopes included. Available by mail order only. 5x7 card on matte ...
Last update was on: August 3, 2020 9:04 am