Digestive Enzymes + Probiotics Supplement Designed to Decrease Bloating and Flatulence is now available at Amazon.com for just $15.34 (REG $34.99) (As of 31 January 2019, 16:30 PST – Details) with $19.65 (56%) Savings.
Want to have Unlimited FREE Two-Day Shipping and Great deals, Exclusive coupons and special promotions to more than 50% Discount?  Sign Up  here.
PREMIUM & SUPERIOR DIGESTIVE ENZYME + PROBIOTICS SUPPLEMENT – Our Digestive Enzymes are designed to help the body properly digest the building blocks of food, proteins, fats and carbohydrates. Better digestion will not only improve nutrient absorption, but will give your body more energy and less digestive complaints like bloating or abdominal pain after a meal.* We use only premium ingredients known to work– the ultimate boost to your body's ability to digest!*
THE RIGHT STUFF TO STOP GAS, BLOATING & STOMACH DISCOMFORT – Did you know many healthy food choices, such as lean protein, high-fiber grains/bean, kale/greens and super smoothies are hard to digest? And, that they are the most likely the culprits to your after meal discomfort! Left undigested these foods can cause havoc in the digestive system. Take Digestive Enzymes to assist in digestion and help ease the occasional pain and discomfort caused by diarrhea, bloating, gas, IBS, and constipation*

ENERGIZE YOURSELF! When your digestive system works efficiently, you waste less energy processing food. Spend your energy on the things you love! Our Premium Solution is ideal for those who lead or aspire to lead active lifestyles.*

100% MONEY-BACK GUARANTEE – We are confident you will love our Premium Digestive Enzyme formula and back it with a 60-day money-back guarantee. Nothing to lose
MAV NUTRITION has designed HIGH-POTENCY DIGESTIVE ENZYMES to include three different probiotics essential to our health as our digestive health is dependent on the presence of healthy probiotics. We have found that supplementing with probiotics will also help to maintain healthy inflammation of the intestinal tract and further support digestive function.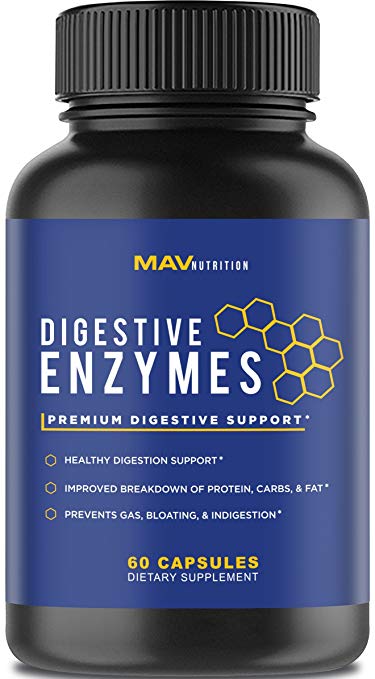 Digestive Enzymes + Probiotics Supplement $15.34 (REG $34.99)