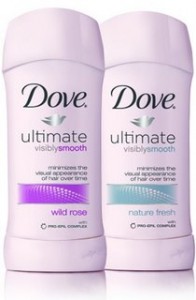 Hey Guys. I just went to CVS to take advantage of the Dove ECB deal. I had to do it a little differently than I previously posted because I only had access to 2 computers and could only print 4 of the Dove deodorant coupons. Here is how it went:
Bought 4 Dove Deodorant @ $3.50 ea = $14
Bought 1 Dove Shampoo @ $4
Bought 1 Dove Conditioner @ $4
Used 4 $2/1 printable coupons here or here
$1.50/1 conditioner
$1/1 shampoo
Total = $11.50
Used $10.49 ECBs from previous week
= $1.01 oop
Got $10 ECBs back  
Got $3 off of $15 coupon also on receipt
If you are just starting out and don't have any ECBs, you would still get all 6 products for only 25¢ each (after coupons and ECBs)! Still an awesome deal!! 
All in all, I came out $11.99 ahead after coupons and ECBs!