Brach's Kiddie Mix Variety Pack Individually Wrapped Candies, 48 Oz is now available at Amazon.com for just $8.38 (REG $10.49) (As of 04 April 2020, 13:07 PST – Details) with $2.11 (20%)Savings. FREE Shipping. In stock on April 9, 2020.
Here is the Live Product Pricing Snippet to avoid any complication.
Want to have Unlimited FREE Two-Day Shipping and Great deals, Exclusive coupons and special promotions to more than 50% Discount?  Sign Up  here.
Brach's Candies
Anytime is the Perfect Time to Break out the Brach's!
At Brach's, we make life sweeter all year long with products for everyday moments and special celebrations during holidays.
Whether you're snacking on Milk Chocolate Double Dipped Peanuts, Malt Balls or Lemon Drops during family movie night, celebrating Halloween with Candy Corn or passing Conversation Hearts to your crush on Valentine's Day, Brach's makes every day extraordinary!
Brach's: Making Confections for 115 years!
Brach's Candy has something sure to please everyone's sweet tooth, from classic hard candy to sugar-free, chocolate to gummy candy.
Taste the joy of everyday moments with our rich variety of deliciously crafted confections. Share a little or a lot, and make your memories sweeter.
Bulk bag of assorted candy: There's something sweet for every kid in class or on the block in this mix of individually wrapped candies, like Sour Brite Crawlers, Rain Blo Pops, Smarties, and Super Bubble gum

Sweet treats from brach's: Candy corn to jelly beans, chocolate to butterscotch, gummy bears to peppermints; whatever your favorite sweet treat is, Brach's Candy makes every moment special

Party candy mixes from brach's: Sweeten your celebrations with a candy mix of Brach's candy, like individually wrapped hard candy, or Brach's Kiddie Mix, perfect for piñatas, party favors or prizes

Make any day sweeter: From kid's birthday parties or gift bags, to Halloween candy for tricker treaters or candy canes at Christmas, to a sweet treat in a busy day, Brach's makes every day sweeter

Brach's made to share: Brach's Candy has something sure to please everyone's sweet tooth, from classic hard candy to sugar free to chocolate to gummy candy; Share a little or a lot and make your memories sweeter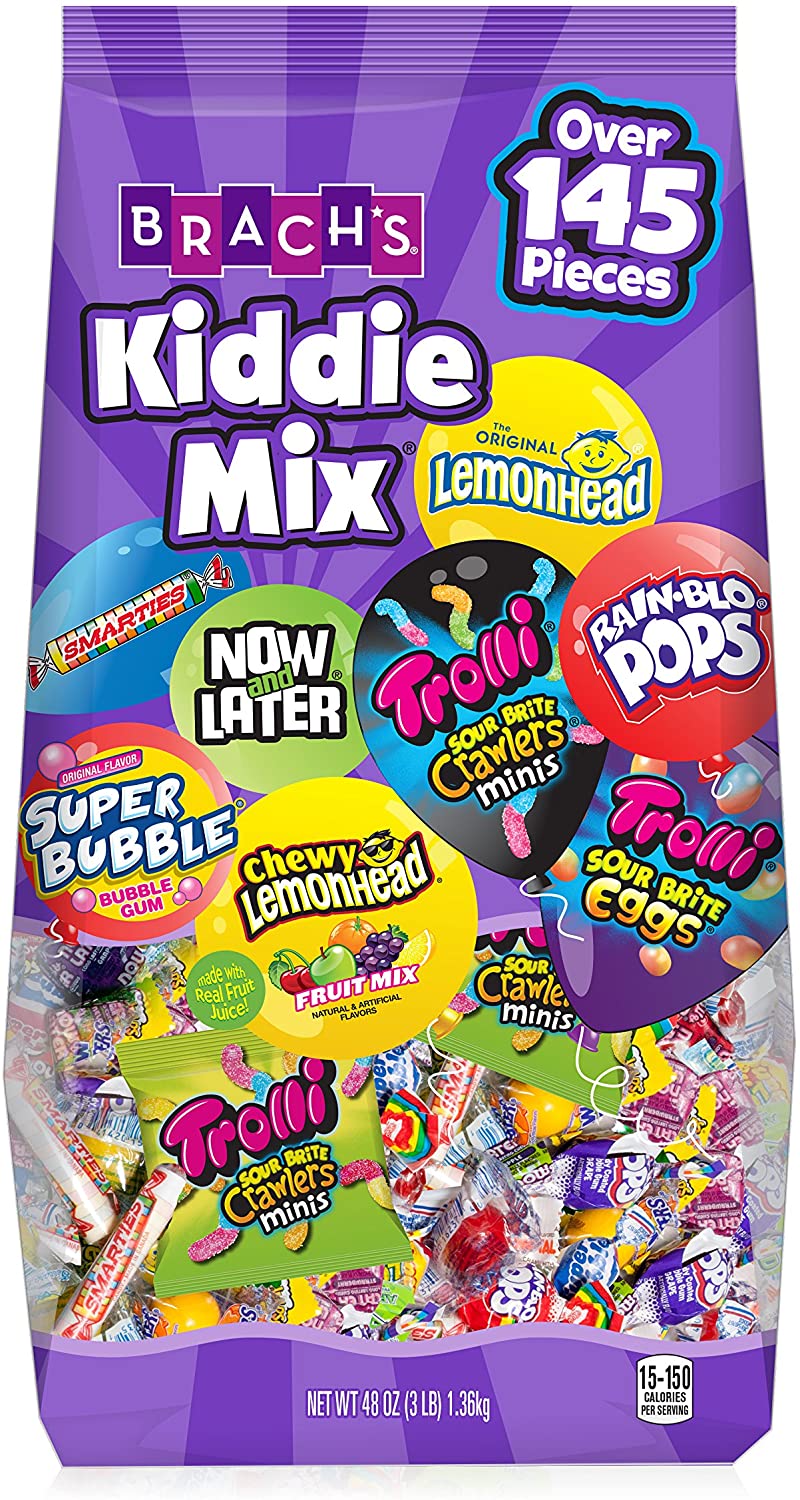 Brach's Kiddie Mix Variety Pack Individually Wrapped Candies, 48 Oz $8.38 (REG $10.49)