Bern Diaper Backpack, Shoulder Baby Bag, W/ Food Cooler, Clip to Stroller (Black/Turquoise) is now available at Amazon.com for just $27.47 (REG $99.99) (As of 06 March 2020, 19:29 PST – Details) with $72.52 (73%)Savings. 
Here is the Live Product Pricing Snippet to avoid any complication.
Want to have Unlimited FREE Two-Day Shipping and Great deals, Exclusive coupons and special promotions to more than 50% Discount?  Sign Up  here.
Obersee Bern Diaper Backpack
Premium quality with sporty styling for moms and dads
The Bern Diaper Bag Backpack with Detachable Cooler by Obersee is a spacious premium quality diaper backpack, with sporty styling that suits moms and dads, that will be useful for many years to come – even after your child is beyond the diaper bag years.
Includes detachable baby bottle cooler and padded diaper changing mat
The backpack features a detachable insulated bottle cooler that is perfect size for up to three bottles or for snacks. The cooler easily detaches from the backpack and features an exterior pocket, carry handle with clip for easy attachment to a stroller, and adjustable straps for easy carrying or attaching the cooler by itself to a stroller. The Backpack includes a padded changing mat.
The spacious Bern backpack is loaded with practical features
The interior of the backpack features multiple pockets, including tablet computer and laptop computer (up to 15 inches) pockets, multiple pockets for changing mats and other baby items, and organizer pockets for miscellaneous items and mom/dad gear, an easy to access fleece lined pocket for electronic devices, and a front zipper pocket for quick access to small items or baby wipes.
100% Polyester

Imported

LARGE STORAGE CAPACITY: As any mom or dad will tell you, hauling around your baby girl or baby boy's extra diapers, clothes, and wet wipes can be challenging.

DETACHABLE COOLER & HANDY POCKETS: Our one-of-a-kind diaper backpack has a removable, insulated cooler pouch that can fit 3 bottles, lunch, or snacks. This baby bag has compartments.
EASY-TO-PACK CHANGING MAT: One of the most challenging aspects of taking your baby out on errands is worrying that you won't be able to find a changing table when you need one. This diaper bag comes fully equipped.

HANDS-FREE CLIPS & STRAPS: Our utility diaper bags are perfect for men and women who want an easier way to carry all of their baby essentials and still get things done.

Bern Diaper Backpack measurements: 8.5″D x 18″H x 13″W (20 cm deep x 46 cm tall x 33 cm wide)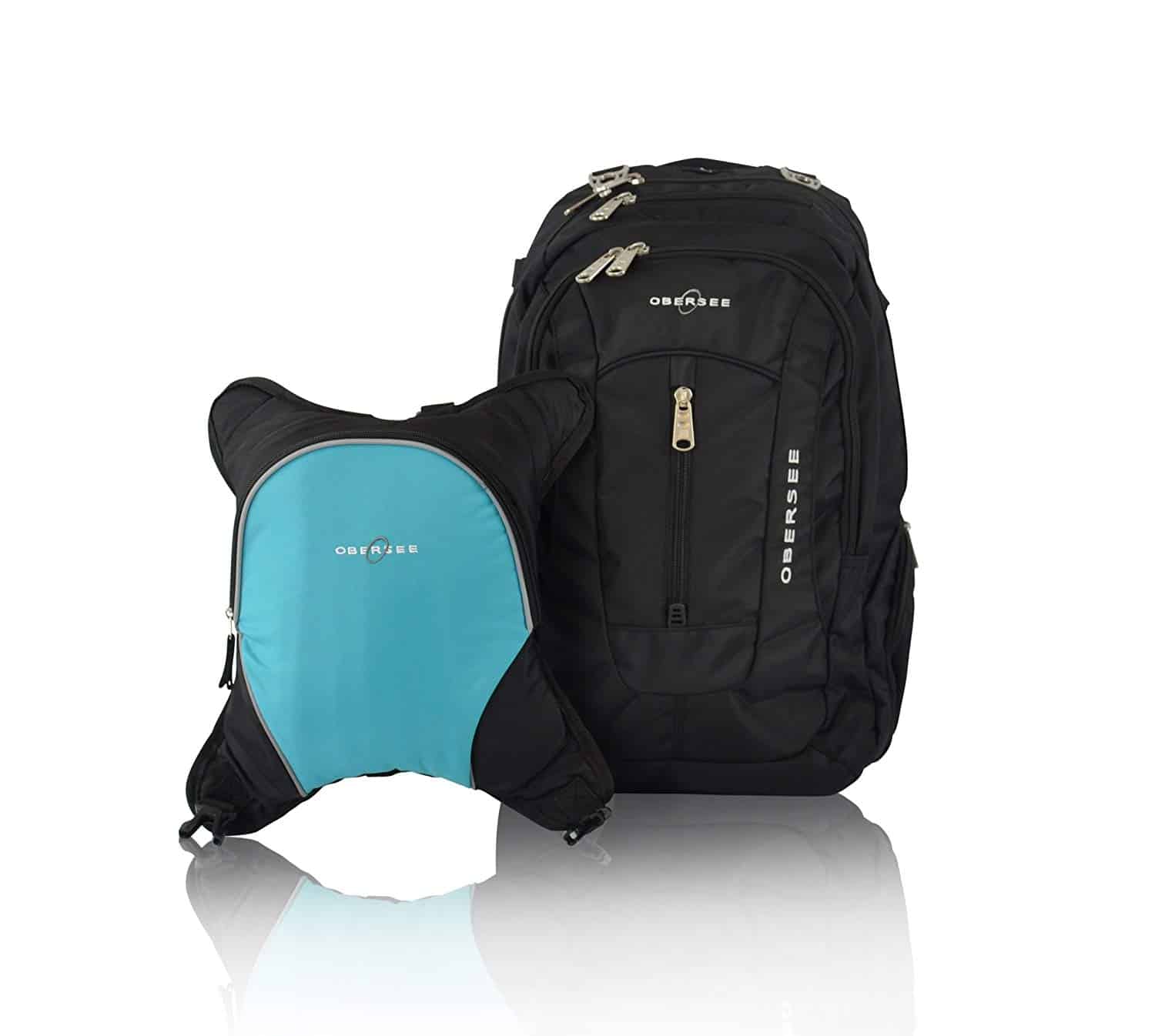 Bern Diaper Backpack, Shoulder Baby Bag, W/ Food Cooler, Clip to Stroller (Black/Turquoise) $27.47 (REG $99.99)