AvoDerm Natural Duck Recipe, Food Intolerance and Sensitivities, Revolving Menu Dry Dog Food for Rotational Feeding is now available at Amazon.com for just $8.12 (REG $22.19) (As of 21 April 2020, 19:16 PST – Details) with $14.07 (63%)Savings. FREE Shipping. on orders over $25.00 shipped by Amazon. 
Here is the Live Product Pricing Snippet to avoid any complication.
Want to have Unlimited FREE Two-Day Shipping and Great deals, Exclusive coupons and special promotions to more than 50% Discount?  Sign Up  here.
One (1) 4 Pound Bag: Avoderm Natural Revolving Menu Grain Free Duck Recipe Dry Dog Food

Limited Ingredient Diet Recipe: Developed For Dogs With Sensitive Stomachs. Our Lid Recipes Allow You To Switch Among Rotational Recipes Without Stomach Upset

Promotes Healthy Skin & Coat: Premium Dry Dog Food Made With California Avocados To Promote Healthy Skin, Coat, Immune System And Overall Health

Real Duck As Top Ingredient: Single Source Real Duck Protein Minimizes Food Sensitivities While Providing A Healthy And Balanced Nutrition

Grain Free Natural Dog Food: Wheat Free, Corn Free And Soy Free. No By-Products Meals, No Artificial Flavors, Colors Or Preservatives
Help minimize food sensitivites

– Grain free and gluten free recipes.

– A limited ingredient list to help further minimize sensitivities.

-Meat, poultry, or fish is the first ingredient and main protein source.

Simple ingredients

Our formulas are highly digestible for dogs, making them an excellent choice for dogs with sensitive stomachs.

Made in the USA

*For more than 30 years we've made all our dry foods in our own California plant; all of our dry food ingredients we buy from USA and Canada with the exception of lamb from New Zealand and duck meal from France. Backed by a 100% Satisfaction Guarantee.
Revolving Menu – Grain Free, Limited Ingredient Diet Recipes
Just like humans, dogs want variety too! Try feeding your dog all of our nutritious recipes in rotation without the worry of an upset stomach. When feeding AvoDerm Natural Revolving Menu dog food you can choose to feed just one recipe or any combination of recipes on the menu. These recipes were specifically formulated for the option of rotational feeding, so you can feel confident about giving your dog 'variety.' All our formulas provide healthy balanced nutrition for your dog. High quality ingredients ensure that you are providing the optimum nutrition your dog needs.
Change is Healthy – Specially Designed For Rotational Feeding
Varying the proteins in your dog's diet helps minimize the risk that he'll develop food sensitivities. We created AvoDerm Natural Revolving Menu dog food with consistent protein and starch levels across all recipes so you can switch it up — without the risk of food sensitivities or stomach upset. So make a healthy change in your routine and see the difference!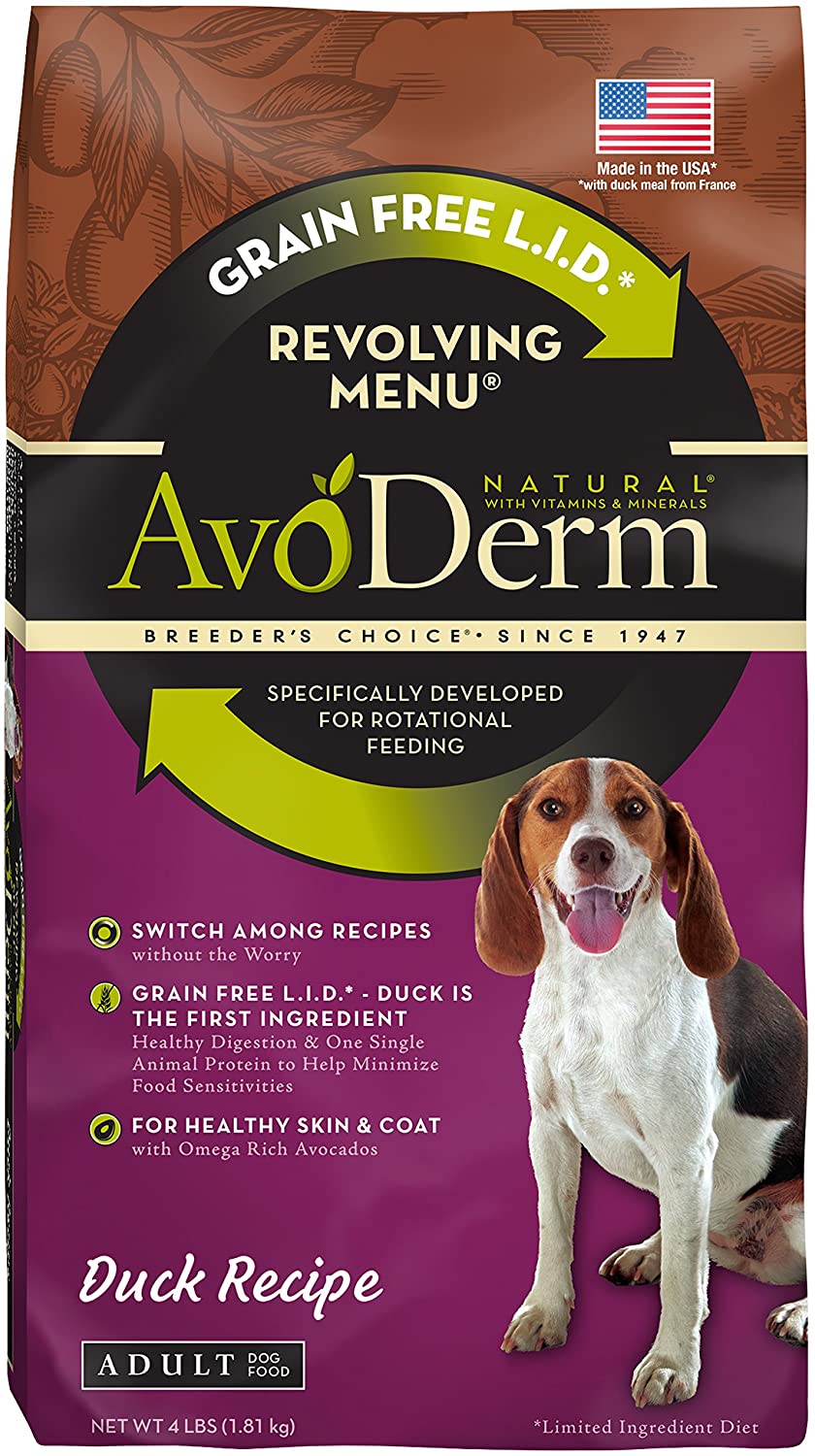 AvoDerm Natural Duck Recipe, Food Intolerance & Sensitivities, Dry Dog Food $8.12 (REG $22.19)