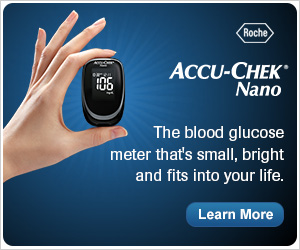 Free Accu-Chek Nano Meter + Skin from CVS!
If you, or someone you know has diabetes, check out this offer for a free Accu-Check meter.
1. Get a FREE ACCU-CHEK® Nano meter! Fill your prescription for ACCU-CHEK SmartView test strips and get your free meter at your nearby CVS/pharmacy® store.
Visit www.cvs.com/accu-cheknano to download your Free Meter Voucher.
2. Plus, get a FREE meter skin with ACCU-CHEK SmartView test strips purchase. While supplies last.
Features
• Preferred on the most healthcare plans to help you save money on test strips‡ and covered on Medicare‡‡
• Advanced accuracy with ACCU-CHEK SmartView test strips—as tested against a 23% tighter specification‡‡‡
• Brilliant backlit display makes reading your numbers easy anytime, anywhere
• No coding—for fewer steps in testing